Eco-Friendly Lodging & Camping

Stream-Front Wilderness Campsites, Cabins / Cottage, & Lodging
Located off U.S. Rt. 50, 3 miles east of Mt. Storm, WV
Cabin C Profile
Water front and water view cabins in West Virginia

Cabin C sleeps 5 to 7 (includes 2 lofts).
Early October leaf foliage.

The fire circle for Cabin C
with a view of boulders in the background.

Main level view with ceiling cover (NEW photo)

Front Loft
Cabin C Setting: Cabin C sits near the main parking area under a street light and a short walk to the port-a-potty. The setting places it on a hill top just above the creek.

Cabin C Features: Cabin C is 10x24', has full electric, lighting, insulation, covered ceiling, and heat. It also has a small refrigerator and 2 lofts. Cabins do not have plumbing.
Fully furnished Cabin C sleeps 5 to 7 people: 2 bunk beds, queen bed, front loft with 2 twin beds, rear loft with Queen size mattress.
See Cabin Details below for what is included and what you should bring.

| | |
| --- | --- |
| Cabin C in peak summer. | A cabin for all seasons -- winter. |
All dogs must be on a leash at all times. Dogs on leash okay at all campsites, cabins, and retreat cottage.
Barking dogs during Quiet Hours (10:00pm - 8:00am) are not okay.


Campground Check-In Time: 3:00pm / Check-Out Time: 12:00 noon


No generators allowed in the campground


Please do not bring your own firewood -- this can spread disease and damage our forest. Firewood available at Lodge.
Foraging fallentwigs for kindling is free. ▪ ** Do not cut live trees or tree limbs **


Please pick-up / carry out all trash and take it with you or unload at our trash dumpster at the lodge house.


Please return benches and picnic tables to their originallocations. Thanks.


Please read all Campground Cautions and Requests http://www.abramscreek.com/cautions.html


The campground Shower House is located near he Lodge House in the red cargo building.


Cabin Details:
full electric service ▪ electric heat
microwave ▪ refrigerator
2-burner propane tabletop stove that uses the (approximately) 1 lb bottles
beds, chairs, table, and other necessary furniture
Just Outside the Cabin:
fire pit ▪ outdoor charcoal grill ▪ picnic table
Nearby Cabin C:
port-a-potties ▪ showerhouse
wifi at main Lodge House porch
phone at main Lodge house porch
What to Bring for Cabin C:
pillows, fitted sheets & blankets or a sleeping bag.
pots / pans /plates cooking & eating utensils
Bring lanterns / flashlights for walking around at night.
Bring 1 lb. propane canisters for using the 2 burner propane stove, or buy them here.
Bring your own food / drinks and other camping supplies.
Available for purchase on site:
charcoal briquettes ▪ lighter fluid
1 lb propane bottles ▪ firewood
No smoking in Cabins

| | |
| --- | --- |
| A departing view in Fall. | Icicles in Winter. |
Campground Registration / Check-In On-Site:
Please register at the Lodge House, sign Liability Waiver (click here), and pay (if not pre-paid.).


Cash, Check, or Credit on-site. No change available.
Security Check of all sites / payments / signed forms nightly.
Contact us for questions and further help: 304-446-5383, 304-825-3555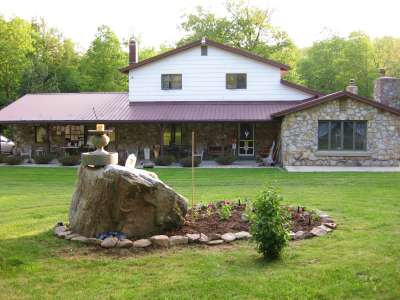 Check-In / Registration at the Lodge House
Located on Front Porch
| | |
| --- | --- |
| The steel cargo building shower house | located close to the Lodge House |

Hot showers
fueled by propane heat

Sinks and mirrors, outlets, benches
and hooks to hang your towel / clothes.
www.AbramsCreek.com Home Page