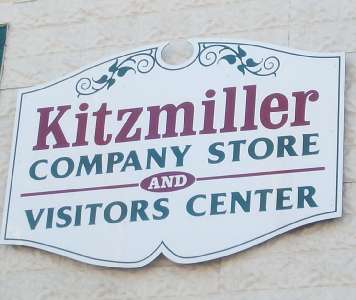 Welcome Coal Bucket Cafe and Home of Pretty Little Things - owned and operated by Bobby Jo Hanlin
Kitzmiller Company Store - Maryland Historic Trust Capital Grant Project

Hours: 6am - 9pm all week, F+Sat till 10pm. Nov 1st winter hours TBA
See website for current menu and specials.

The Coal Bucket Cafe in Kitzmiller, MD -- which opened in October 2008, is located just 12 miles from Abram's Creek Campground. The cafe is situated at the intersection of Rt. 42 and W. Main Street along the N. Branch of the Potomac River. This former turn of the 20th century Company Store (operated by the coal mines) has been magnificently restored and serves as a Restaurant and ice cream parlor, General / Grocery Store and gift shop. The Restaurant & General Store has a charm and great dining atmosphere and service that would make any family happy.

The Store includes metal / tin plate ceiling and wall moldings that are spectacular. An entire wall is filled with historical photos of famous Kitzmiller town floods along the Potomac River this past century.

This restaurant and general store are truly worth a trip into Kitzmiller. The blueberry pancakes, homemade waffles, and sausage gravy over homemade biscuits are worth the trip any morning. After having breakfast or lunch at the cafe, continue to drive along W. Main St. and follow road parallel to the Potomac River to a few good swim holes, particularly at the Abram's Creek terminus point where it joins the greater Potomac just a couple of miles down.

Abram's Creek enters the Potomac at a railroad bridge that crosses Abram's Creek as it enter the N. Branch Potomac. Park near the old closed down general store on the RHS of the road (brown stone/masonry building). Do use caution when playing in the Potomac or crossing it during higher waters it is still a fast moving, and in places, deep river.